Aluminum Ladders
< View our line of industrial Stairs
Aluminum Ladders come Eleven Sizes Available (From 1 to 11 Steps)
Bolts to the Bottom of Any ErectaStep Platform
Handrails Powder-Coated in ANSI Yellow
Always OSHA-Compliant
Lightweight, Heavy-Duty Aluminum Construction
Proudly Made in America
Our Aluminum Ladders are Built to Support Any Application.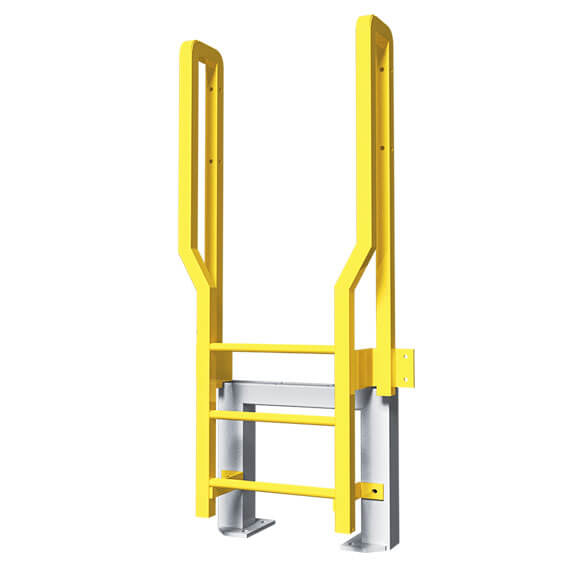 Workers can safely access areas unfit for stairs with ErectaStep's metal ladders. Our metal ladders are pre-engineered to save you time and money, and they join easily with the four other industrial stair components to make up a complete ErectaStep aluminum stairs and work platform system.
Aluminum Ladder Features:
Available in 1 to 11 rungs
ANSI yellow powder coating for added visibility and durability
Laser technology reduces weld points
---
Using a combination of 5 components: Prefabricated Aluminum Stairs, Metal Work Platforms, Industrial Handrails, Aluminum Ladders and Tower Support, our modular design is sturdy, requires no fabrication and quickly bolts together to provide aluminum stairs, crossovers and many other configurations for safe access over pipes, dike walls, or other obstructions. All our work platforms and industrial aluminum stairs are OSHA compliant, precision manufactured and are fully engineered with heavy gauge steel and aluminum. And as always – each component is fully stocked and ready to ship today!
ErectaStep's Aluminum Ladders are vertical rigid ladders with rungs or steps that bolts on to ErectaStep's 5 component system. The vertical members of our rigid ladder are called stringers or rails (US) or stiles (UK). For inclined solutions, we have aluminum stairs. For rollable ladders, we have RollaStep. 
---